Hundreds of thousands of animal and human remains have been uncovered in a cave in northwestern Saudi Arabia, which scientists believe were accumulated by striped hyenas over the last 7,000 years.
Archaeologists uncovered the massive mound of bones while excavating the Umm Jirsan lava tube, which has been radiocarbon dated to different eras spanning over 7,000 years.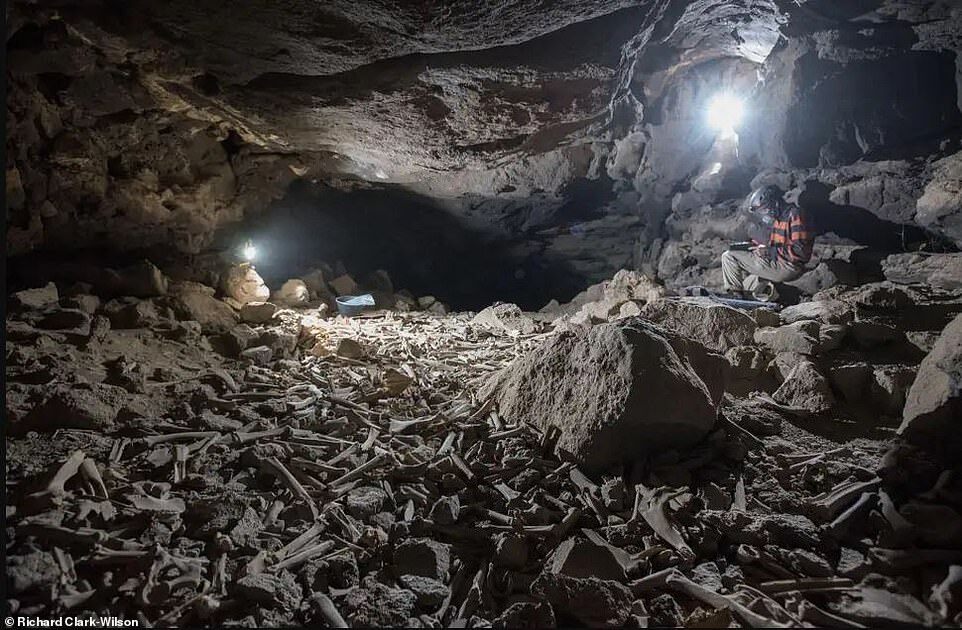 The study believes striped hyenas are responsible for the 40-species bone bed, which contains horses, donkeys, camels, goats, gazelles, and even other hyenas.
Three human skull remains were discovered alongside the animal bones – hyenas are known to go through human tombs for meat.
Striped hyenas are nocturnal predators that eat a wide variety of prey, including herbivores, carnivores, insects, and plants.
They scavenge the decomposing flesh of other animals' kills regularly.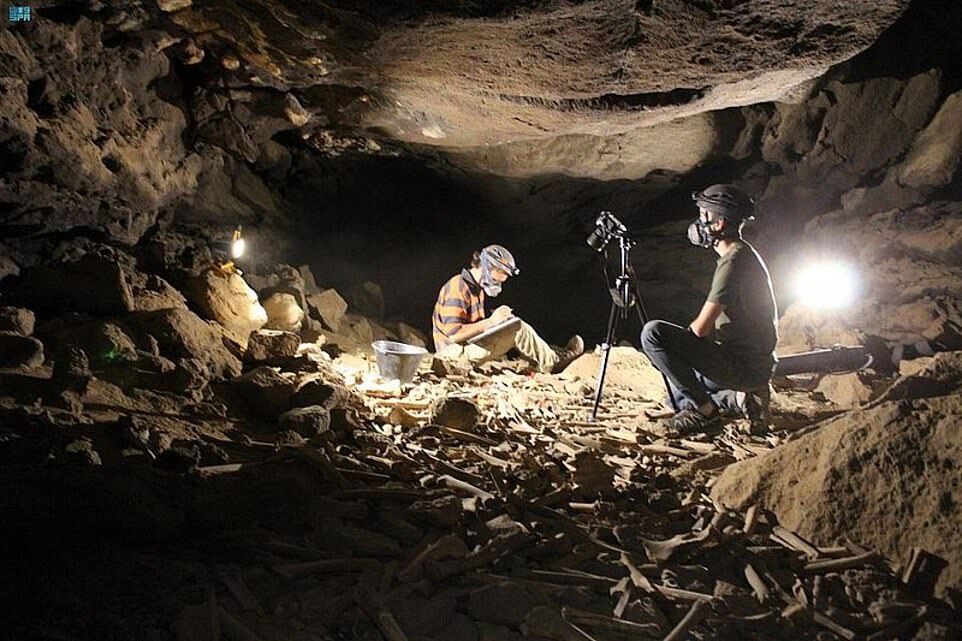 These creatures also bite and break bones with their powerful jaws.
Hyenas can digest pieces of prey that other animals can't, like hooves, horns, hair, and ligaments.
They often store food in shallow holes dug with their snouts, such as bones, chunks of flesh, or meat. They'll also transport any leftover meat found at a scavenging site.
The lava tube was discovered in 2007, but researchers claimed they heard snarling from within and hesitated to go any further.
Scientists from the Saudi Geological Survey, King Saud University, and the German Max Planck Institute, on the other hand, braved the windy cavern until they came upon chambers with a sea of bones in each.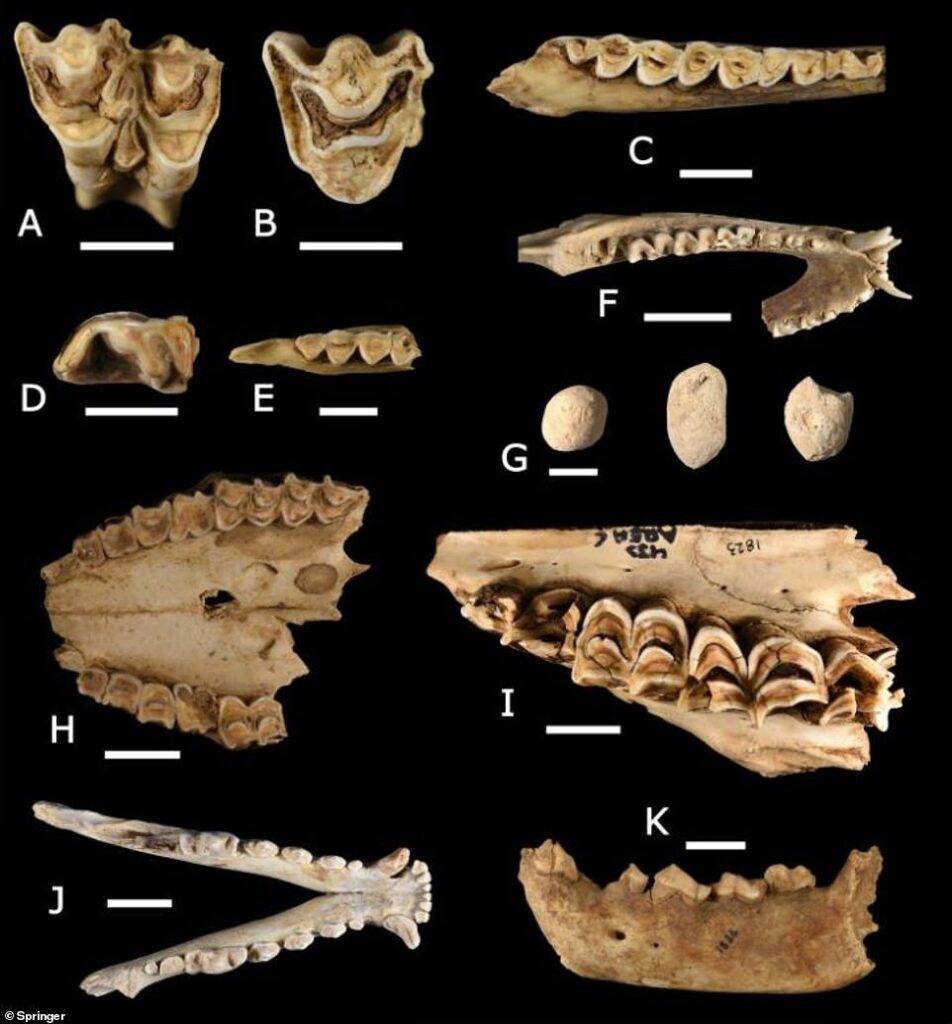 'Bones, largely representing carnivore accumulations, were detected throughout the system, with a concentration in the very western region,' according to the researchers. In a paper published in Archaeological and Anthropological Sciences, Mathew Stewart collaborated with Max Planck and others.
'The presence of wolves, foxes, hyenas, rock doves, bats, sheep or goats, and swifts is indicated by the presence of 'wolves, foxes, hyenas, rock doves, bats, sheep or goats, and swifts,' and 'growling' heard during the exploration of the site suggests that Umm Jirsan still serves as a den for carnivores.'
The team went on to inspect another room, which they dubbed the 'Wolf Den' because of the large number of bones discovered there.
A total of 1,917 bones and teeth were gathered for additional analysis from the tens of thousands of bones found inside the den, with 1,073 of them matching a certain skeletal element.
About 13 samples were chosen for radiocarbon analysis, which revealed that some of the bones were 6,839 years old.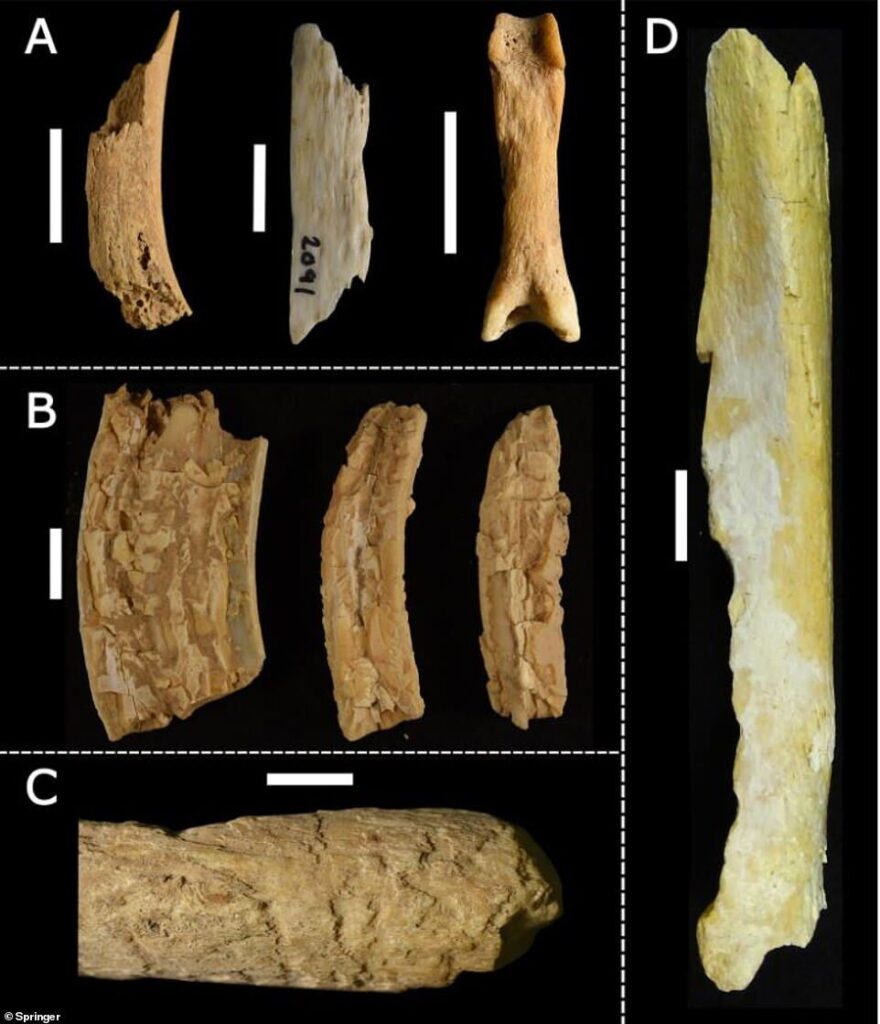 'Carnivore processing is evident in 42% of the bone, including bite marks, stomach etching, and rounding from licking.' According to the study, gnaw marks take the shape of tooth pits.
The hyenas are thought to have carried the complete body of small animals to the cave, whereas larger animals were cut apart and only the nutritious limbs returned to the lava tube.
The only human remains discovered inside the Wolf Den were skull caps.
'They don't seem to be interested in skull caps,' Stewart, a zooarchaeologist at the Max Planck Institute for the Study of Human History, told Gizmodo. At the location, we found maybe five or six skullcaps with gnaw marks, but only the skullcaps. 'There's nothing else.'
The Umm Jirsan lava tube, in eastern Khaybar's desert district of Haret Bani Rashid, is thought to be one of the numerous lava tubes in the area, tunnels produced thousands of years ago by lava from a nearby volcano.
The 4,859-foot-long system consists of three lava-tube tunnels separated by two collapses, making it Saudi Arabia's largest surveyed cave system and the longest lava-tube system in the Arabian Peninsula.